Artcritical.com, April 2005
"Richard Sloat and Su-Li Hung: Mr. & Mrs."
by John Goodrich


Richard Sloat and Su Li Hung share many things besides a household. Both are painters/printmakers inspired by views of New York City neighborhoods, and over the years both have exhibited numerous times in group shows at Michael Ingbar Gallery. Their current two-person show at the gallery commemorates this long professional and personal partnership -- and the selection of work, interestingly, highlights considerable differences in their approaches.

Ms. Hung is represented by a dozen oil paintings varying from lyrical representation to complete abstraction. Expressiveness of texture is this artist's strong suit; she takes palpable pleasure in the buttering and feathering of paint, with intense colors humming through multiple layers of pigment. The most muscular images here are the most representational; "Elm Tree" powerfully conveys the density of space within a clutch of kinking, knotting limbs. Other paintings have a decorative delicacy, teasing the viewer with suggestions of vines or branches. In several totally abstract, gridded compositions, Ms. Hung's organic strokes add a more playful note to a Minimalist idiom.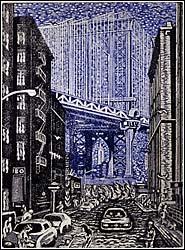 Richard Sloat Dumbo Dynamo
Etching, 12 x 9 inches. Courtesy Michael Ingbar Gallery
of Architectural Art


Mr. Sloat's etchings use the rich tones of aquatint to effectively convey the city's crowded, soaring verticals. Some of the scenes are quite naturalistic, and in these he uses a light and precise touch to divide broad areas of illumination from inky shadows, imparting a lush specificity of atmosphere. Cubist stylizations enter into other images, while still leaving a bit of room for human vagary; bridge ramps dotted with bumper-to-bumper traffic and endless walls of windows become the streams of energy tying these compositions together, but they also section off zones of intimate activity: figures dancing on a rooftop, a woman pushing a stroller, the familiar face of the Empire State Building glimpsed beneath a bridge's arch, all playing cameos in these personable images of urban frenzy.




About the Artist
Articles & Reviews (main)
Biographical Data
Catalogues & Published Work
Contact Information
Exhibitions & Collections
Home